About D'Arque Bishop…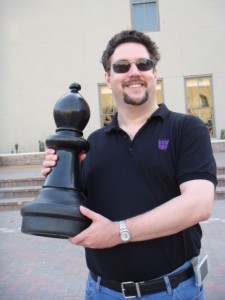 Who is D'Arque Bishop? He is a writer, a philosopher, a reporter. He is a gamer in the contest that is our world. He is a modern-day wizard who does not suffer fools gladly. Always mysterious and authoritative, he waits on the sidelines, dispensing his wisdom (or his justice) when appropriate. He truly is the ….
Meh. That's too overdramatic.
Okay, here's the deal. My name's Scott Bishop, and I'm a self-professed computer and gaming geek. I live and work in the Houston, TX area, where I've lived for the past 40+ years. I currently work as a datacenter engineer for a telecommunications and media services company. In addition, from 2002-2023, I also acted as the system administrator for Mortal Kombat Online, one of the internet's longest-running Mortal Kombat fan sites.
About the D'Arque Cathedral…
The D'Arque Cathedral is simply my homepage on the net. I originally created it as a really crappy homepage with a bunch of quotes and other stuff I liked, using a loud background image I had acquired (stolen?) from Ed Boon's (co-creator of Mortal Kombat) homepage. I grew bored with it sometime in 1996, and closed it off with a page that said "The D'Arque Cathedral is under renovation". It stayed that way for nine years.
I reopened the site in mid-2005 to act as my main journal. I previously had a LiveJournal, but wanted something of my very own hosted on my own site. Right now all it has are links, the journal, my online gallery, and this page; I'll probably add a bit more content sometime in the future.
Credits and thanks…
First off, thanks go to Sinc for getting me into the whole Linux thing and for providing a home for the D'Arque Cathedral for so many years. I also want to thank Sean MC for introducing me to WordPress (the software I use for the backend of the site), and Tabmok99 and Joey Schorr for their help in developing the site's look; specifically, the logo and banner image.
Contact me…
Email: drkbish@darquecathedral.org
Instagram: https://instagram.com/drkbish