I have to give Jennifer a lot of credit.
She's been very supportive of the fact that I'm into gaming. She's been willing to come out to Dave & Buster's with me whenever I've had an itch to go, for example. Then again, it gives her an excuse to play some Time Crisis 4, which is her favorite arcade game. She also lets me know when she hears about arcade conventions coming into town, and comes out with me.
Yesterday was another example of that. She received an email alerting her that Stern was having a release party for their new The Rolling Stones pinball machine, and the Houston one would be at Joystix. Seeing as we had nothing else going last night, we decided to go out there. While on their normal "Pac-Man Fever Fridays" the whole showroom was available to play, only the middle showroom was available this time around. I entered the tournament they had for The Rolling Stones; the objective in the first round was to hit twelve million points in as few balls as possible, and you had three tries to do it in. On my first try I did it in four; it would have been three had my third ball not gone into the right drain almost immediately. Unfortunately, by the time I got to my second try, enough people had done it in three that I had to do it in three balls or I would be eliminated. I didn't manage it. It was fine, though; considering the other people in the tourney played a lot and I don't get to play pinball too often outside of emulators, I was happy I did as well as I did. :-)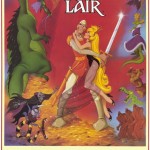 The thing is, for various reasons, I've been getting a nostalgia for old arcade games. My home office is an extension of my geekiness, so to speak, as I have framed posters and other memorabilia set up around it. For example, I have two Mortal Kombat II posters in my office. A couple of weeks ago, though, I was browsing around on the net and found a movie type poster for the game Dragon's Lair (as seen on the right). I went ahead and picked one up, and this weekend I will be seeing if I can get a 27″x40″ frame for it. It'll be replacing one of the two Mortal Kombat II posters.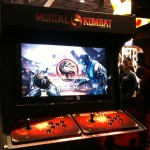 However, what I would really like to have is an arcade machine or pinball machine in the house. I admit I'm a little jealous of my friend Eric, who not only has Ms. Pac-Man and Scramble machines, he has an old Pinball Wizard pinball machine. The problem, though, is that I almost literally have no place to put a machine. As it stands, about the only kind of machine I could reasonably put in the house is a cocktail table machine, as it could double as actual furniture. If it were available, too, I'd love to get one of the pseudo-arcade cabinets NetherRealm Studios made for the new Mortal Kombat game. Unfortunately, I don't have the money available for it, and if I did I wouldn't have a place to put it.
Ah, well. It's a nice thought to have an arcade machine or a pinball machine (preferably Doctor Who or Bram Stoker's Dracula), but we have more important expenses to worry about right now. For now, I'll content myself with Pac-Man Fever Fridays, Dave & Busters, and the occasional Game Night at Eric's house. :-)