Jennifer and I had decided that tonight, we were going to cool off after work by going to a bar a coworker had told me about last Friday.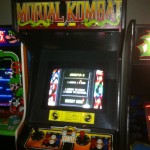 The bar is called Barcadia, and its claim to fame was that it had a number of classic arcade machines in it. The machines looked like a decent selection on the website, including the original Mortal Kombat. It sounded like fun, so we decided to give it a try. We stopped off at District 7 first to have some dinner, and then made our way over for dessert and drinks. Jennifer in particular was looking forward to their fried oreos.
Were we impressed? Well… no.
When we drove up, we noticed right away that the only parking at the place was valet parking, which we wanted to avoid. After looking around for a minute or two, we parked on the street near the bar and walked over. As we approached, we noticed that the crowd was significantly younger than us. We went in, ordered our drinks, and I walked over to play some games. I ended up playing a few games of Mortal Kombat, plus other games like Star Wars, Robotron:2084, and Popeye. The machines weren't in great condition; several had monitor issues and the controls on some weren't very responsive. Star Wars in particular had nonfunctional buttons and was out of alignment. In addition, it wasn't clear whether or not the machines were supposed to be on free play. I had asked for quarters at one point and was directed to a change machine, but when I walked around several machines had numerous credits in them. As I was closing my tab, I heard the bartender who directed me earlier tell someone the machines were supposed to be on free play.
As for the fried oreos we got? We were not impressed at all. The vanilla ice cream that came with them was a generic single serve vanilla ice cream cup that would be at home at a Chinese buffet or school cafeteria. The oreos themselves were, well, fried oreos, but were okay at best.
As we were leaving, Jennifer looked around at the crowd, and commented that it was "douchebag central". I couldn't help but agree; the place was pretentious and the average person there was ten years younger than us, looking to hook up. It really was not the kind of place we liked, and if it wasn't for the arcade machines, we wouldn't go in at all. We shrugged our shoulders, and decided that it was not some place we would go back to.
Ah, well. It's a shame, but it was worth a try. We figure that from now on, if we want classic gaming and drinks, we'll go to Joystix for their "Pac-Man Fever Fridays", where we can have drinks in their nice little lounge and have the run of the entire showroom of games. :-)