This past weekend, we had a first with Lucas: we took him on his first vacation. :-)
Jennifer and I decided VERY early on that we wanted to get him used to travel, so that when it came time for us to go on very long trips, he would be ready for it. We wanted to do something easy for the first vacation, though. Normally in the summer, we do a two or three day trip to Corpus Christi with Jennifer's parents and have some quality beach time. However, we felt it would be easier if we went somewhere close in case Lucas wasn't ready for it or had problems. Moreover, as a contractor, I don't get paid if I don't work, so I can't afford to take extra days off.
In the end, we all decided to stay at Moody Gardens in Galveston overnight.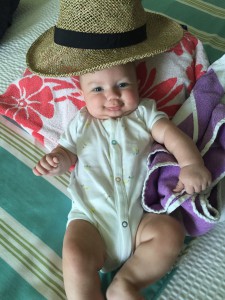 We actually started the weekend at our favorite hole in the wall place in Galveston, Shrimp 'N Stuff, for lunch. As always, the food was excellent, and Lucas was as good as always. In fact, he was VERY social, smiling and flirting with whoever he happened to make eye contact with. Afterwards, we went straight to the Moody Gardens hotel, where we managed to check in early and get rooms next to one another (we had booked separately). Once we had gotten into our rooms, we unpacked, changed, and made our way down to the pool.
Speaking of unpacking, I'm going to digress for a minute. Several months back, Jennifer and I went to an event at Baby's 1st Furniture called "Gearapalooza", where we got to see demos of baby gear from several different manufacturers. While we had wanted to win a stroller or car seat as a door prize, we ended up winning a Nuna SENA mini travel crib and play yard. In retrospect, we're VERY happy we got it, because it worked perfectly for Lucas while we were in Galveston. He slept very soundly in it, and it was extremely easy to set up and pack up. It's a keeper for future trips.
The pool at the Moody Gardens hotel was great. It wasn't crowded, the water was cold and clean, and best of all it had a swim-up bar. Even better, the hotel could have skimped on the drink quality, but they were well made; my frozen margaritas in particular were very refreshing. We spent the afternoon relaxing in the sun and taking turns dipping in the pool while Lucas slept. After a while, we left to go back to our rooms to rest in the air conditioning and decide what to do next. We briefly considered visiting the rainforest pyramid (the aquarium one was closed for renovations), but chose not to as Lucas isn't old enough to truly appreciate the pyramids. Instead, we decided that seeing as the pool was such a success, we would go back there. This time, it was even nicer as the sun was setting and so it wasn't as oppressively hot. After a couple of hours at the pool, we went inside to the casual restaurant (with a quick stop to change into regular clothes) to have a nice dinner.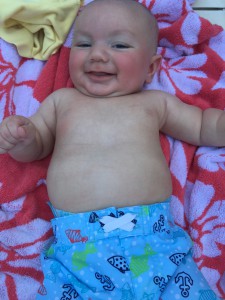 The next morning, we had breakfast at the casual restaurant, and then decided to make our way to Moody Gardens's "Palm Beach" area, which was the resort's official waterpark. That part was the only real disappointment of the trip, because the waterpark is small, doesn't have that much to do (especially with a baby), and it was crowded as all hell. It also seemed to be a fraction of the size of Schlitterbahn, which was literally right across the street. I personally tried to get on the lazy river, and found that I couldn't comfortably fit in one of the inner tubes. After a half-hour or so there, we gave up. Frankly, we were glad the room cost covered the price of admission, or else we would have felt ripped off as well as disappointed.
We returned to the hotel's pool, and spent a couple of hours there having drinks and lunch from the swim-up bar. To us, the hotel pool was far superior to the waterpark, if only because of the fact that it was much less crowded (because only hotel guests could get in). Now we know for future trips…
This time, we decided we wanted to bring Lucas into the pool for his very first pool experience. Admittedly, we didn't know how he would react to it, but he rather enjoyed it. He didn't fuss or complain, and even seemed to like the cold water. Of course, it helped that the sun was behind the hotel so it wasn't as bright and hot as it could have been. After he had been in the water with us for a while, we went ahead and took him back to our table (strategically positioned to have plenty of shade) so he could rest and have his lunch. :-)
Once we were finished with the pool, Jennifer and I decided to take Lucas back home, so that we could get him back into his usual routine. The drive home was uneventful, with Lucas sleeping most of the way.
All in all, it was a great little vacation, with the only bumps being those that would have happened whether or not Lucas was there. We're now confident he can handle a proper trip, and we're already looking forward to our next one. :-)