Jennifer and I saw Star Trek Beyond this past Sunday. In my opinion, it's easily the best of the "Kelvin-verse" movies, and felt like a true Star Trek film. I kind of want to see it again, but am perfectly willing to wait until it comes out on Blu-Ray.
In the run-up to the movie and after seeing it, I've become somewhat nostalgic about Star Trek video games, and have been kind of jonesing to play some of them.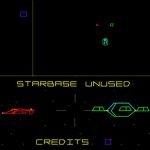 Funny enough, the one I've been missing the most has been the original arcade game from 1982, Star Trek: Strategic Operations Simulator. It's a somewhat fast-paced arcade game where you pilot the Enterprise in battle through various sectors of space, defending starbases against attacks from Klingon warships, and occasionally battling the malevolent probe Nomad (from the original series episode "The Changeling") as it creates minefields around you. Admittedly, when I was a kid, my friends and I used to play the hell out of the ColecoVision port of the game, pretending we were commanding the actual Enterprise. These days, it seems that the only way to play it is via the emulator on archive.org, as there have been no modern re-releases.
The closest game I've found to replicating the feel of the arcade game is Star Trek: Starfleet Command, which is a strategic ship combat simulator based on a tabletop game called Star Fleet Battles. It's far more detailed and complex than the arcade game is, but on the other hand it replicates the feel of actual ship combat in Star Trek more closely. As much as I wanted to get into it, though, I simply couldn't get the hang of it and got my butt kicked on a regular basis. It's actually available for sale now, via GOG.com.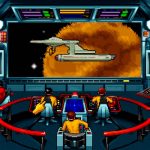 Of course, if one wanted to replicate the feel of the actual TV series, the game to get would be Star Trek: 25th Anniversary. Originally developed for MS-DOS, Star Trek: 25th Anniversary is an adventure game set up as several "episodes", where Kirk et al have to deal with puzzles and obstacles using diplomacy, problem-solving, and the occasional use of brute force. While the game allows you the option to be a jerk and selfish in gameplay dialogue choices, you get the most points for taking actions as the original crew would… and for keeping your redshirts alive. ;-) This game and its sequel, Star Trek: Judgment Rites, are written as if they're the unofficial fourth and fifth years of the Enterprise's five year mission, and even have the voice talent of the original cast. Like Starfleet Command, both games are available on GOG.com.
As for modern games, though, I've mostly been disappointed. There was an action-adventure game based on the Kelvin-verse for consoles, but I didn't enjoy playing the demo so I didn't bother getting the full game. As it turned out, the full game got savaged by critics, so I ended up dodging a bullet (or phaser) there. I've heard decent things about Star Trek Online, but I simply don't have the time to play an MMORPG, especially one for PC. I tried Star Trek Timelines when it was released for iOS, but ended up deleting it when I found the ship-to-ship combat was mostly hands-off and the rest of the gameplay was free-to-play/pay-to-win nonsense. It doesn't help, either, that several reviews of the game accuse the developers of poor customer service and making underhanded changes to gameplay rewards to try and force players to spend money. There's also a RPG puzzle game called Star Trek: Wrath of Gems, but to be honest I got bored with free-to-play RPG puzzlers after Doctor Who Legacy.
I suppose, then, I shouldn't hold my breath for a decent quality Star Trek video game to come out anytime soon. As long as games like Strategic Operations Simulator and 25th Anniversary are still available to play, I should be okay. I just wish it wasn't so seemingly hard to make a Trek game that's fun to play.