I think I might have posted this before. If so, I do apologize… but here it is again just for the hell of it.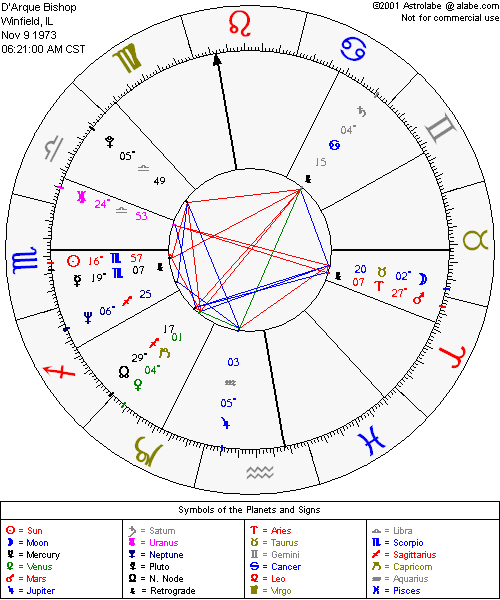 Hi there, here is the interpretation of the astrological chart that you asked for. Also attached is a .GIF graphic file which depicts your chart wheel. Thank you for visiting the Astrolabe WEB site at http://alabe.com This report has been created especially for you. It represents your Unique picture at the time you were born and at the place you were born. If you are unsure of the exact time of day of your birth (or the date or the place), the reading will probably not seem as accurate as it could be in certain places, but other parts will seem to be very appropriate. You will notice at certain places in the reading that contradictory information seems to be given. This is to be expected, because the personality of most people is extremely complex. For example, at times we are quite shy and at other times we are very aggressive, and so forth. You will also notice that, at certain points in the reading, certain patterns may be repeated over and over, especially in a longer more detailed report than this one. This is also to be expected. This simply means that your horoscope has an extremely strong focus on this particular pattern and that you should pay extra close attention to what is said about it. Now, on with your Report!
Name: D'Arque Bishop
November 9 1973
6:21 AM Time Zone is CST
Winfield, IL
Rising Sign is in 13 Degrees Scorpio
You tend to be quiet, reserved, secretive and, at times, quite difficult to understand. Others notice your deep emotions and feelings and wonder how to draw you out. Stubborn and tough, you fight for any position you believe in. You are very resourceful and formidable when you become angered or upset about something. You enjoy living life at the cutting edge — for you life must be experienced intensely and totally. Quite courageous, you are willing to take calculated risks. Easily hurt by others, you often strike back with bitter sarcasm. Sensitive and curious, you are concerned with the deeper mysteries of human psychology. Once you have become interested in any subject, you pursue it with total fanaticism.
Sun is in 16 Degrees Scorpio.
Intense and complex by nature, you have extremely strong emotional reactions to most situations. Feelings are often very difficult for you to verbalize. Therefore you have a tendency to be very quiet – – to brood and think a lot. You seldom get overtly angry, but, when you do, you are furious and unforgiving. When you make an emotional commitment, it is total — you are not attracted to superficial or casual relationships. If you are challenged, you take it as a personal affront and tend to lash out and fight back in a vengeful manner. You love mysteries and the supernatural. A good detective, you love getting to the roots of problems and you enjoy finding out what makes other people tick. You are known to be very willful, very powerful and quite tenacious!
Moon is in 02 Degrees Taurus.
Warmth, comfort, security and familiar surroundings are necessary for you to feel at ease. Very loving and affectionate, you prefer a steady, patterned way of life. Patient, calm and steadfast, you are not easily upset. Others look to you for support. You tend to be a slow starter and a slow mover — others may try to rush you, but they will never succeed. Emotionally, you are quite stubborn — your attitudes about people and things were firmly set in your youth and will change very little as an adult. You are also very cautious and conservative about spending money. It is not that you are selfish, you just need to feel secure. Beware of a tendency to become overly complacent and too self-satisfied.
Mercury is in 19 Degrees Scorpio.
You are a born investigator. You are fascinated by secrets and mysteries and unanswered questions of any kind. When you become upset or angry, your emotional reactions are overpowering — reason and logic disappear in an uncontrollable passionate outburst. You tend to keep your thoughts secret and bottled up and this makes others regard you with suspicion. It is not that you are trying purposely to be evasive, it is just that you would rather not deal with the explosions and hassles that often occur when you reveal your true feelings and opinions. Your sense of humor tends toward sarcasm and irony.
Venus is in 04 Degrees Capricorn.
You tend to keep your feelings under control — emotions are only released in serious or important situations. You are distrustful of others whose behavior could be judged excessive or immoderate. As such, you prefer to relate only to those who are older than you or to those whose position is such that respect and duty are more important for both of you than passion or emotional response. Be careful, however, of relationships that are merely based on practicality or utility or you will ultimately be lonely.
Mars is in 27 Degrees Aries.
You are very independent and self-assertive, and you have lots of physical energy. You are not satisfied unless you can be the first to do something. As such, you are more comfortable in leadership positions than you are as an underling. When you are challenged by anyone for anything, you delight in the competitive process and will fight long and hard for your beliefs. You are bold and courageous and often act without thinking. At times, in your zeal to get ahead, you are tactless and offensive — learn that cooperation with others can often bring you nearer to your goals quicker because of the support you will get.
Jupiter is in 05 Degrees Aquarius.
Your personal growth occurs when you have the freedom to do things in new and interesting ways — this brings out your natural inventiveness. You are an individualist, but you are also attracted to mass movements that emphasize social betterment and you will devote much time and energy to their efforts. Very fair- minded and objective, you have extraordinary skills at organization and administration.
Saturn is in 04 Degrees Cancer.
The most important issue for you is emotional security. You have a deep and gnawing fear that those on whom you depend for emotional support will prove to be unreliable in the long run. When you are unloved and insecure, you distrust others and tend to feel isolated and lonely. Very cool, detached and objective, you can be counted on — in situations that are inherently stressful or full of tension — not to lose your self- control. That is a great and welcome gift at such times.
Uranus is in 24 Degrees Libra.
You, as well as your entire peer group, have a very free, unstable and unconventional approach to relationships and emotional commitments. You will be attracted to experiments in marriage and shared lifestyles. Personal freedom is more important to you than entangling emotional bonds. In the realm of art and aesthetics, you are attracted to the bizarre, shocking and unusual.