Well, I apologize for not posting sooner. I haven't really been in much of a posting mood, you see. However, I figure it's about time I posted about my past weekend, which is something I had been meaning to talk about for a while.
You see, this past weekend, I went out to Columbus, OH. For those who don't know, Scott Howell is a good friend of mine, and is also the one who hired me on at Mortal Kombat Online. Well, for a couple of years he had been dating this girl named Lindsey Bailey, and this past weekend was when they were getting married. Scott invited me and Joe (aka CCShadow, the other admin) to the wedding, and we were happy and honored to attend. Joe and I even arranged our flights where they would arrive and leave within minutes of one another, so that we could share transportation.
It was a great idea in theory. In practice, it didn't work out QUITE so well. My flight arrived early on Friday, and Joe's arrived late. Once he arrived, though (after I had been waiting an hour), we went and picked up the rental car, and made our way to the hotel. Once there, we got checked in and settled into our separate rooms, and then made our way to dinner at the Cheesecake Factory. After a rather filling meal, it would have been nice to go to Barnes & Noble… had it been open yet. So, we went back to the hotel to our separate rooms, and basically did not much of anything.
I got up relatively early Saturday morning, and after having breakfast in the hotel restaurant, I decided to walk across the street to Worthington Square Mall to see if there was anything interesting there. Those who have lived in the Spring area for more than 20 years will likely remember North Oaks Mall. That's what Worthington felt like. I was through the mall in less than five minutes without having a single thing that interested me. After going to lunch at Buffalo Wild Wings, I went back to the hotel, changed into my suit, met up with Joe (who had slept the entire morning), and we made our way to the church where the service was taking place.
When we got there, we signed a photo of Scott and Lindsey, and were shown seats. We pretty much kept to ourselves until the service started, as we quite literally didn't know ANYONE other than Scott. Scott came past us once when seating his grandmother, and quickly said hi. Pretty soon the service itself started; it was a very nice service, with the standard pastor talking about marriage as a covenant from God and Lindsy and Scott giving their vows, plus lighting the candle together. As Scott and Lindsey walked out, he winked at us acknowledging our presence again.
As we were shown out, we were all given the opportunity to greet the wedding party. We didn't say anything to the first bridesmaid, but we did take the opportunity to say hi to the second, as it was Scott's older sister Carrie. We greeted her and complimented her on her singing (she sang the Lord's Prayer during the service). Then, Joe said, "Well, my name's Joe Schorr and this is Scott Bishop. We work with Scott on the website." Carrie smiled wide and said, "Oh, so you're CCShadow and D'Arque Bishop?"
At that, the entire rest of the wedding party swung around to look at us, and someone said, "Those are the Mortal Kombat guys?" We ended up meeting and greeting everyone, including Scott's parents. :-) From there, we went outside and did the obligatory rice shower for Scott and Lindsey. Once that was done, we piled into the car and made our way back to the hotel. Amusingly enough, I exited the freeway too early, and using my phone's Google Maps we took the scenic route back. :-)
Once at the hotel, we got ourselves comfortable at a table for the reception, and got to eat some hors d'oeuvres while waiting for the reception to start. We also got to meet a few of Lindsey's coworkers as well. Pretty soon, the reception started, and we went out to get food… only to find that Joe could only eat the salad. I availed myself of the food, and we sat down and talked to Lindsey's coworkers. Scott and Lindsey did a walkaround to greet their friends and family, and I took a picture of them…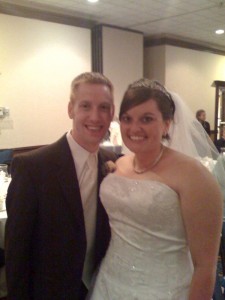 Scott warned us that we would be featured in a slideshow, and he was right; when the slideshow got to the part marked "Our Friends", several pictures of us at Midway events were shown. We ended up telling Scott's parents that they should have contacted us first, as we would have given them versions of the pictures WITHOUT the MK Online watermark on them. ;-) After the slideshow ended, the dancing began. I admit that that night, I found out what it takes to get me on the dance floor: a fair amount of alcohol. Granted, Scott's mom dragged me out there, but I had fun nonetheless. The rest of the night was spent either talking to Scott's friends and family or out on the dance floor. When the night ended, Joe and I went back to our separate rooms (where Joe ordered a pizza), and eventually went to bed.
Sunday morning saw me having breakfast in the hotel restaurant again, and then packing my clothes in my room. I skipped lunch, and at around 2 PM I met up with Joe in the lobby as we checked out. We made our way to the airport, and ended up sitting down for a late lunch/early dinner twice; Joe had pasta at an Italian place outside security, and I had a burger at a Chili's Too inside security. Once that was done, we settled at our gates (which were right next to one another) and worked on our computers. The time soon came where Joe had to board his flight, so we said our goodbyes and boarded. Ten minutes later, I boarded my own flight…
… and before we left, we were told a bird had committed hara kiri by flying into the engine as the plane had landed in Columbus, so we were stuck until they could clean the bird out and check the engine. I ended up deplaning, getting some coffee at Starbucks, and relaxing in the terminal until it was time to board again. I spent the flight listening to music on my iPhone for the most part.
All in all, it was a very fun trip. One of these days I might have to go back up to visit Scott and Lindsey and say hello. Otherwise… it was great seeing him and Joe, and I look forward to seeing them again (which, at this rate, will likely be E3).