This has been something of an interesting weekend.
I spent the weekend with Jennifer, and we got to do quite a bit of fun stuff. We started off at Birraporetti's downtown in the Theatre District, where we had a very nice dinner. That done, we wandered around the immediate area a little, taking in the sights and talking, before we went to see Our Town at the Alley Theatre. The show was very good, and well worth watching. Once the play was over, we wandered a block away over to Bayou Place, where we intended having a drink at the Hard Rock Cafe. On the way, we saw a rather… interesting sight: six guys dressed as superheroes dancing around a light pole. In retrospect, I wish I had been closer so I could have gotten a good picture of it. We went into the Hard Rock, had a drink and listened to a band whose name escapes me, and then made our way to Jennifer's favorite martini bar. After having a couple of drinks there, we headed back to her place for the night.
The next day was something of a new one for both of us. We had learned that Randall Milholland, the author of one of my favorite webcomics, Something*Positive, was in town for a convention called Oni-Con. In addition, some of Jennifer's coworkers were going to the event as well. So, not ever having been to a convention before, we decided to give it a go. When we arrived at the Marriott Westchase, we were struck by just how many people there were in costume. In fact, Jennifer said nothing but "wow" for four or five minutes straight. Once we got some cash for the tickets, we met up with her coworkers Joseph and Andrew, and got into line for tickets. Tickets bought, we wandered through the area, trying to navigate through the packed hallways. I even encountered one of MY coworkers while walking around.
At one point, we found a ballroom area that had many arcade and console machines set up. What drew my attention, however, was the fact that they had a working Doctor Who pinball machine. I was in heaven for a bit as I got to play (ironically, it's the pinball machine I'm best at). Once done there, we moved on to the next ballroom, where we watched as attendees engaged in mock battles. We then crossed the hall into a room where vendors sold clothing and other items. One company, WLP, had three t-shirts I wanted. I bought two; one was a very neat IT one, and the other referenced a popular German forklift safety training video. They didn't have the third one I wanted in my size, however…
That done, we wandered down the hall again, where we ran into Randy Milholland's table. We talked to him for a bit, and he was kind enough to do a sketch of the characters Davan and Vanessa for me.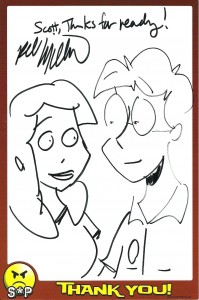 The guy was just as hilarious in person as he is in his comic and on his Twitter, I must say. I also got a copy of Super Stupor, which is his parody of superhero comics (and pretty funny to boot). We even got to see Clarine Harp, who is the inspiration for the character of Aubrey in S*P. Randy said he was about to do a panel on webcomics, so we made our way over to where it was, where we were entertained for an hour as he and other webcomic artists answered questions about doing webcomics and talking about their backgrounds. One of them asked why those who wanted to do a webcomic hadn't done it yet; I almost replied that my art skills make Xkcd look like DaVinci's work. All in all, though, it was extremely interesting… though by the end of the panel, Jennifer was geeked out, and the overheated room did nothing to make her feel better. So, after grabbing one more game of Doctor Who pinball, we walked over to Outback Steakhouse for dinner, and then made our way back to her house for trick or treaters and scary movies.
Once we got to her house, we got the candy ready for the trick or treaters, and sat down for the first of the two movies of the night: Event Horizon. Jennifer had never seen it before, and wanted to give it a try. An hour into the film, she was definitely unnerved, but we were also a bit disappointed. Not in the movie, though, but in the trick or treaters: we had only gotten two or three coming by. We turned out the lights and proceeded to finish the film. After it was done, she was a bit freaked out, but we went ahead with the next film: Prince of Darkness. If anything, that film scared her even more. She retaliated by threatening to make me watch Twilight; in the end, she put on Bram Stoker's Dracula which was showing on Channel 55. In retrospect, that movie really wasn't as close to the original novel as we liked, and we ended up shaking our heads at the Mina/Dracula romance. After that, we called it a night… with a couple of nightmares to boot.
All in all, it was a very fun weekend. I'm not sure when or if we'd do another con, but we're definitely looking into seeing more plays at the Alley. We're also looking at a couple more movies to watch at some point. For now, though, it's the start of a new week, and it's back to work for both of us. Fun fun…