It's not exactly a surprise to anyone that I enjoy playing board games. Hell, the fact that I've discussed the game Talisman on here repeatedly should be something of an indication. In any event, I still have several of my old board games. On Sunday, Jennifer came by the house, and we were talking to my mom, when the subject of my board games came up. I brought down my most recent acquisition, which was a special edition of Monopoly. While showing it to Mom, it brought back some memories, so I decided to locate the other editions of Monopoly in the house.
Before I became hooked on Talisman back in eighth grade, my parents and I used to play board games every Saturday night like Clue and Scrabble. Our favorite, however, was Monopoly. I talked my parents into getting a standard set, and we played with that for a while… and then Mom revealed to me that she and Dad had a set older than I was.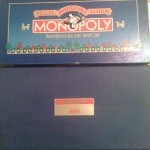 It was in a blue plastic carry case, and the houses and hotels were made of wood (white bottoms and green or red roofs). We played on that every so often as well.
Seeing as I was really getting into Monopoly at the time, I wanted a special edition or two of the game. For a present one year, my parents got me the fiftieth anniversary edition of Monopoly, with gold-plated player pieces, wood houses and hotels, a plastic money holder, and a rulebook that included a history of the game. In addition, I got my hands on a standard edition of British Monopoly and would play that every so often. Not only would I play with my parents, I'd sit down and play with friends as well. I remember a game against Sean where, after he made a deal with me that went badly for him pretty quickly, Mom had to counsel him that I never made a deal that didn't directly benefit me in some way. :-) Those were fun times.
However, once I picked up Talisman and other Games Workshop games, I turned away from Monopoly. It wasn't that I didn't enjoy it anymore. I just never got around to playing it, and as such it fell into disuse. I literally have not played it in over twenty years.
That's likely to change, though. Jennifer loves playing Monopoly and wants a chance to play against me. In addition, our friend Julie loves playing board games so we're sure that she'll want in if we decide to play. That's not even counting the possibility of Becky and Brian (or even Sean and Jinny) wanting to play a game. We'll definitely be playing soon.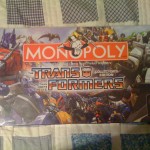 Oh, and going back to the special edition of Monopoly I mentioned I recently bought? We got it while doing shopping at the outlet malls in San Marcos the day after Christmas. It'll likely be the edition we'll play with our friends… and as you can probably tell by the picture to your left, it really is no surprise which edition of the game we ended up picking up. :-)