So, Jennifer and I decided this year to give each other a special Christmas present. We got ourselves two new kittens. :-)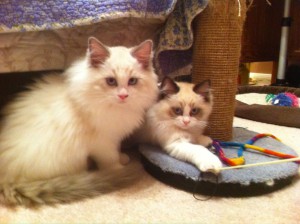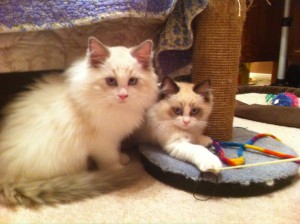 We had been talking about getting a kitten for a while. Jennifer had been missing Lucy, her first cat, and we wanted to get a playmate for Sophie and Darcy (our current two). We decided on getting a ragdoll like the others, simply because of how great they have been for us. So, we contacted the person we got the others from, and finally got a response from her after a while. It turned out that she had stopped breeding ragdolls, but was taking care of some kittens for a colleague of hers who had cancer. Through her, we worked out the details. It turned out she would be in town anyway Christmas weekend, so we arranged to go and pick them up Christmas Eve.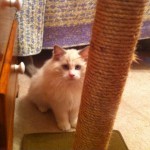 It was also at about that time that we realized that it would be best if we got two kittens instead of just one. That way, they would have each other as playmates to relate to instead of being alone with two other older cats. We asked for two girls, but as it turns out, we ended up with a girl and a boy. We didn't mind at all; that way it's even amongst the sexes here. :-) We played with them a bit there, got the paperwork for them, and then made the trip home. Jennifer stayed in the back seat with them, while they cowered in the kitty carrier. (They had been through so many trips that week that they were very spooked.) Once home, we put them in the spare bedroom with their own food, water, litter box, and toys. That way they could get acclimatized without having to deal with the older cats.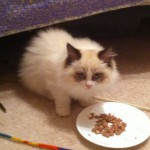 When we got them, we were told the girl was the dominant one and that the boy was quiet and let the girl take charge. That seemed to be the case at first, but over the past 24 hours, the boy kitten became more assertive and playful, while the girl kitten stayed back and was more skittish. We don't think they were socialized around humans, as they're still very nervous around us. Still, we've been spending time with them, playing with them, and getting them used to us. They've gotten to the point where they will play with toys and such with us, but the instant they realize they might be getting too close, they back off a bit. We figure that they'll be far more comfortable around us in time, but for now, we're taking it slowly.
Before anyone asks, though, we don't have names for either yet. We've been considering all manner of different names for them, but until we have them checked out by a vet (especially to confirm the genders!), we're not setting anything in stone yet. We do have some finalist names for both, though; we should be ready to announce them in a few days.
I have to say, though, that they are far more adorable and playful than I was expecting. They're WONDERFUL kittens, and are a delight to play with. I'm looking forward to spending a long time with them in our family. :-)