http://www.bbc.co.uk/doctorwho/news/cult/news/drwho/2005/11/10/26933.shtml
Doctor's deadly foe gets updated for 2006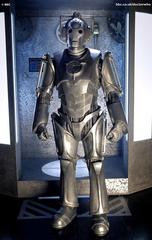 Filming is now underway in Cardiff for the long-awaited return of the Cybermen. The two-part adventure, written by Tom McRae, sees The Doctor and companions battle against a new, more deadly breed of Cybermen who are out to convert humanity into their own kind.
Producer, Phil Collinson says: "The villainous Cybermen are as much a part of Doctor Who heritage as the Daleks and so it's a huge personal thrill to see them back. I hope that the evil silver giants will terrify a whole new generation of viewers as they confront the tenth Time Lord."
The sinister breed of monsters; second only to the Daleks in their infamy made their first appearance in 1966 and haven't darkened our screens since 1988. Next year will mark their 40th anniversary.
Originally created by Kit Pedler and Gerry Davis, (also the creators of Doomwatch), the modernised version have been superbly redesigned by Edward Thomas's design team and Neil Gorton at Millennium FX.