As I stated in a very recent post, Jennifer and I have switched over to the paleolithic diet. In short, we're eating a lot of meats and vegetables, but have almost completely cut out breads, sugars, and other processed foods. For the most part, it's worked out very well, and I haven't really been missing much in the way of my diet except for a few items like pastas, pizzas, barbecue sauce, and chicken tikka masala.
However, my favorite dinner item of all is a hamburger, and the buns are definitely not paleo-friendly.
Fortunately, Jennifer did some research online and found a wonderful alternative on a blog called the dawn of paleo: buns made using sweet potatoes. We had a friend and her daughter over this weekend for burgers and hot dogs, and we tried them on our burgers. They were easy to make, and they ended up tasting delicious, too. :-)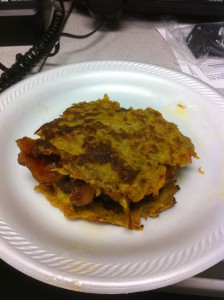 To my surprise, they even did well as leftovers; I took a burger with me yesterday for my lunch, and I included the sweet potato buns. Microwaving them for 30 seconds warmed them right up and made them perfect for the burger. They're definitely a have-again.
If you're interested in the recipe, you can find it in a posting on the dawn of paleo blog, located here.