Yes, Festivus was a lot of fun. I'll probably make a post about it a bit later, but first I wanted to make an observation…
As is well known, back in March or so I made it my goal to change my eating and exercise habits, and lose weight as a result. I had noticed some changes (especially in terms of pants sizes), but more often than not I would hear from friends and colleagues about how much weight I had been losing. When I look at myself in the mirror, it's kind of hard to tell. Well, late last night or early this morning, Ray posted some pictures from last night's Festivus, and I was floored by how I looked. I'll give you a bit of a comparison.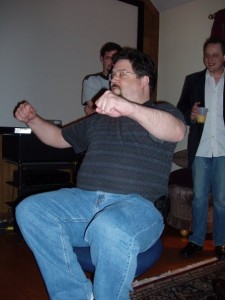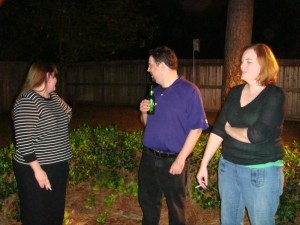 I had no idea I had lost so much weight. In all modesty, I think I look good… heh.
I'm kind of falling off the wagon this month thanks to Christmas et al, but I plan on getting back on the wagon once the New Year rolls around. I'm not eating like I was, mind, but I've been in more splurge situations than before. I hope to get closer to my target weight by February, but for now I'm just happy that my efforts are obviously paying off. :-)